How to earn rewards through a Signal Provider
Not everyone has the desire or technical know-how to become a Signal Provider, and that's ok. The Flare Network allows you to delegate your vote to a Signal Provider. What this means is that for every Spark (FLR) token you hold, you are given a vote. This vote can be delegated, risk-free, to one or many signal providers at any time. The vote delegation is risk-free because you never lose custody of your Spark (FLR) and you can redistribute your vote at any time without penalty.
Below illustrates the vote delegation process where token holders of Spark (FLR) delegate their vote to a Signal Provider. Signal Providers supply pricing data, such as the price of FLR/XRP, to the FTSO and are rewarded with Spark (FLR) if their price falls within the median. This data is then used by application on the network.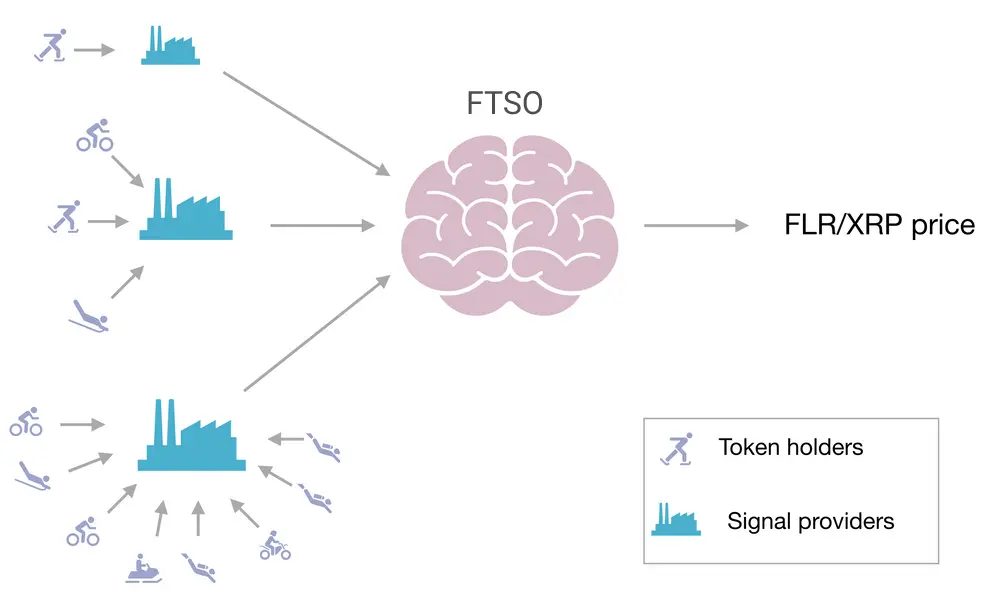 Signal Providers earn rewards by how accurate their data is. Accuracy is calculated by the FTSO from a weighted price of all signals for a given asset in a certain time period. The price is weighted by the vote count for each voting cycle. After a weighted distribution is calculated the top and bottom 25% are discarded, leaving the median 50% getting the rewards. Voting cycles happen frequently.
This is a powerful mechanism as it rewards Signal Providers for giving accurate data while also allowing users who delegate their votes to a Signal Provider to earn yield risk-free with little to no effort. You don't lose any Spark (FLR) if your vote does not fall within the median, you just don't earn any rewards for that cycle.
Signal Providers play a key role in allowing the network to grow and to give regular holders of Spark (FLR) the ability to participate and earn passive income.